Case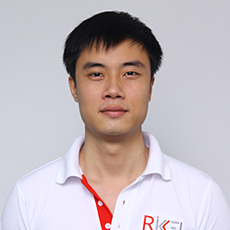 Chatwork helps to shorten the working time and improve work efficiency by up to 25%. I strongly recommend companies to use Chatwork for internal and external communication.
Mr. Bui Quang Huy, Rikkeisoft
Rikkeisoft Company Limited is a Vietnamese company operating mainly in the field of software outsourcing. Although newly established in 2012, by 2015, Rikkeisoft was selected as one of the top 40 Vietnamese companies operating in the IT field (The ranking of elite IT businesses voted by VINASA - Vietnam Software and Information Technology Services Association). Starting a business with only 5 founding members, but after only 3 years, Rikkeisoft has grown rapidly with a staff of 150.Here, we would like to interview Mr. Bui Quang Huy - COO and Mr. Nguyen Quang Ky. - Game Manager for the effectiveness of using Chatwork at Rikkeisoft.
Number of employees: 150
Our company aims to perfection, with the image of a company providing high quality innovative services to customers
As far as I know, the founders of Rikkeisoft all studied abroad in Japan, right?

Mr. Huy Our company's co-founders have all studied at Japanese universities. Four of them have worked at FPT - a leading company in the IT field in Vietnam. Then in 2012, the 5 of us decided to start a business and set up a new company that has been growing up to now and reached 150 employees. The company founders graduated from two Japanese universities, RITSUMEIKAN University and KEIO University. So we decided to combine the first letters of two names and name the company is Rikkeisoft.

Has your company received many orders from Japanese companies?

Mr. Huy 95% of our company's customers are Japanese companies, and the content of jobs varies from Web system development, business systems, IoT, Cloud Service, to applications for Smartphones, Games and financial - banking systems. The company can also take individual projects, but for now it is mostly ODC-based contracts. This type of contract is not based on the number of units in a project but is based on the guarantee of a programmer number in a certain period of time. Being able to ensure a stable number of programmers over a long period of time, for customers that is a great benefit.

There are smartphone applications that our company has developed have reached 13.000.000 downloads in Japan. The company's product quality has always received the trust from customers. The percentage of customers who continue to sign contracts with our company is about 97%.

The company has grown rapidly and is recognized as one of the top 40 IT companies in 2015 by VINASA - Vietnam Software and Information Technology Services Association.

When communicating with many different communication tools, it is complicated and error-prone
Before using Chatwork, did your company use a variety of means of communication?

Mr. KyBefore Chatwork, we mainly communicated via email and chat tools, and made phone calls on the internet. Because of using both of these tools's chat functions and e-mail, the conversation's content is fragmentary and difficult to manage. Furthermore, when using internet calling tools to communicate in groups, we do not know who the information is directed to, so we have to spend time confirming messages and missing out messages happens very oftenly. Email communication also encountered with the same problem.

One more thing, project documents are uploaded to Google Drive or Dropbox. So when using e-mail or chat tools on the Internet, information content quickly drifted away and it is difficult to get it back again.

So where did you get information about Chatwork?

Mr. KyI was introduced by a partner about the benefits of using Chatwork and advised me to use Chatwork for work, that were how I start using Chatwork.

Since all projects have agreed to use Chatwork, we haven't using email or chat tools on the Internet anymore, but only use Chatwork as the only means of communication.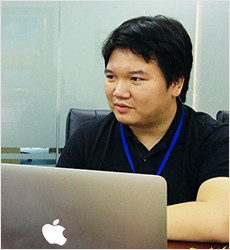 No more missing out information, verifying information has become much easier
What are the changes after using Chatwork?

Mr. KyThe using just only one means of communication helps to solve the problem of missing out information. Moreover, the function of taking note for each group is also very useful. By taking note the link to download project documents, we are able to share information with team members easily. When uploading new documents, just updating this note is considered to have been shared among the entire group. When you need to send a file to a specific object, you can use the "TO" function to send to specific file's recipient.

Besides, is there anything else that have been improved, sir?

Mr. KyWhen developing games, we have to create prototypes and edit images many times. Many times we have to correct and reconfirm dozens of times in just an hour. Before using Chatwork, the files management and receipt via mail or internet calling tools were very hard, but since agreeing to use Chatwork, just upload the image and confirm " Is that ok? ". If the partner reports no problem then just ask to confirm one more time to complete. In addition, the function to preview files by previewing (thumbnails) without downloading is also very useful for the job.
The method to use Chatwork in parallel to other project management tools effectively
What project management tools is your company using now?

Mr. KyWe usually use Redmine at present. In addition, we also use other tools requested by customers such as Backlog and JIRA. Redmine is used to confirm the overall status of a project, such as who is on what task. After the changing of status on Redmine, Chatwork is used to notify everyone. As for things that are not directly related to the project, or just fix small errors or something need to be resolved, we use Chatwork's task function.

When we need to assign tasks to multiple teams, we use Google Spreadsheet and create task lists. For managers, we use Google's paid apps to get more storage space.
Operating time is reduced by 25%
After using Chatwork, has the productivity been clearly improved, sir?

Mr. KyFor example, a projiect that took about an hour to complete before, including discussing time via e-mail, now thanks for using Chatwork, that time is shortened to about 45 minute. Furthermore, the tasks are managed effectively, so it saves much more time.

So how did you make use of the time was born from increasing efficiency?

Mr. KyThanks to Chatwork, the completion time is shortened, but that does not mean that we will deliver projiects earlier than schedule. We use Chatwork to improve productivity, and we use the saved time to improve the project before delivering it to our customer.
Can use Chatwork + PR = Get the trust of customers
In Vietnam, what is the assessment of Chatwork?

Mr. KyCurrently in Vietnam there are many companies in the field of software outsourcing do business with the Japanese market, and usually these companies are advised that using Chatwork if they want to improve productivity with Japanese companies. It's so popular that if there is any company doesn't use Chatwork, it'll get the bad impression that it is an unprofessional company. So when we introduce ourself to Japanese customers, the using of Chatwork for working and communicating is clearly displayed in the most eye-catching position.

How useful has Chatwork been to your company's business?

Mr. HuyOur company aims to fulfill customers' requirements in the most perfect way. Along with taking advantage of our strength in the Offshore field, we are always focusing on the project's quality what we supply to customers. And Chatwork plays an important role in our company's business.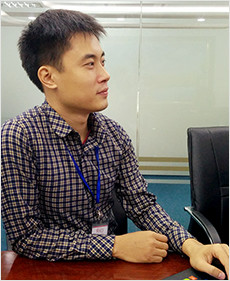 I want to devoted myself to build a better Vietnam-Japan relationship
You must have quite a few friends in Japan, right?

Mr. HuyThe founders of the company all went to universities in Japan, so we have quite a lot of friends in Japan. For a company specializing in providing services to Japanese customers like Rikkeisoft, we would like to contribute to a better relationship between Vietnam and Japan. Whatever Vietnamese or Japanese, it is always the best thing to know each other well.

Currently, our company is sending about 20 employees to work in the offices of customers in Japan. They are also trained in Japanese working skills and learn Japanese as well. Once they well known the skills and working styles, they will be the new agent to form new groups for our company after returning home. Another thing is, our company will establish a subsidiary in Japan in March this year. So I really hope that the co-op relationship between Vietnam and Japan will go further.